Size Guide for Shirt
Size for Height and Weight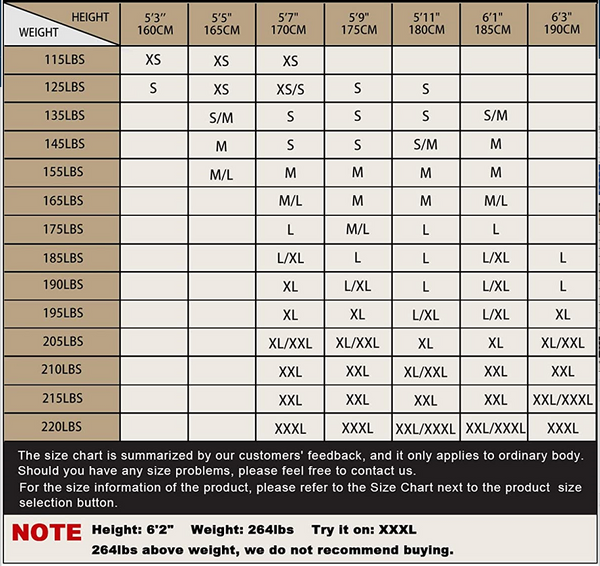 Notice
You must realize the fact that there are thousands of clothing manufacturers in the world. Inevitably, there may be slight differences in size standards because of the different measurement systems. All of these differences can lead to the clothes incorrectly fitting.
Cloudstyle will show you the measuring method we applied.
Before you buy a piece of clothes, please keep the following two questions in mind.
1. What are the common mistakes you may make in choosing the sizes?
1) Choose the size only based on your height or weight.
2) Simply choose the size which you normally wear comfortably.
2. How to select the right size?
1) Measure your body size correctly.
2) Generally speaking, clothing sizes are slightly larger than the actual human body size. When men purchase clothing, the chest size of men's clothing should be 4-6 inches larger than the body size, and the clothing waist size between 0.8 to 1.6 inches larger than the body size. (The information above is just for your reference only)
3) You can choose the most comfortable clothes which you usually wear, measuring the chest, waist, hips, and other areas, and then compare the measurements to the size chart. Simply select the nearest size.
Following the picture is the correct way to measure your body size. 
If you have any questions about size, please feel free to contact us: support@cloudstyle.com